Converting a US COVID Vaccination Card to an EU Digital COVID Passport for travel can be easy, but is it necessary?
With all the COVID-19 precautions for travelers worldwide, proving full vaccination is the easiest way to gain entry to countries and experience them to the fullest. There's plenty of speculation and misinformation on how, or if, Americans can convert their paper COVID-19 vaccination cards into the more convenient EU Digital COVID Passport.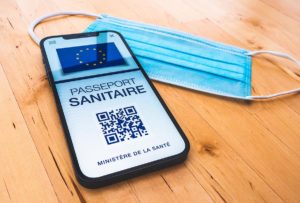 This Passport is an individually generated QR code confirming full vaccination with an approved vaccine. The list is: BioNTech/Pfizer, Moderna, AstraZeneca, and Johnson & Johnson. The Passport allows for free travel between all 27 countries in the EU and in 9 non-EU states.
Some EU countries only require an American vaccination card to enter their borders. Some, like our first stop Portugal, need a negative PCR test taken less than 48 hours before arrival unless you have a EU Digital COVID Passport. Since we're visiting several EU countries over the next few months, Kirsten and I looked into converting our American vaccination cards to the EU standard. This would ideally make country transfers easier, while saving money on potential COVID testing. A single non-resident test runs around 50 Euros average.
Many websites and articles gave differing facts and timelines on whether Americans could get the EU's Passport. The one base fact I picked up was that individual EU states add their own citizens to the passport program. To get on the EU list, it would have to be through a country we were visiting.
I first tried the Portuguese government. I emailed their embassy 10 days before leaving for Lisbon about obtaining a pass. A day later received a polite but firm response of, "No, please have your negative PCR test ready when you deplane." I get it. I'm not mad about the policy. Protecting travelers and citizens should be priority one. But it was frustrating and added extra steps and testing time to our departure schedule.
We were both rapid tested the morning of our flight out of JFK, with results arriving in around 30 minutes – negative. We had no issue in boarding our flight or traveling through Portuguese customs.
With rising COVID numbers due to Delta, if you want go to bars, clubs, museums, concerts, sporting events, or eat out indoors, you'll need either an EU Digital COVID Passport or a negative PCR or antigen test taken within 72 hours. Some countries, like Portugal, only require Passports or negative tests on the weekends. Some, like France and Italy, have taken more aggressive measures, requiring a safe QR code every day.
We visited with one of my old grade school friends who was honeymooning in Portugal. He and his wife had problems getting into restaurants the weekend before, even with their American COVID-19 vaccination cards. Kirsten and I passed several Lisbon restaurants checks with no problems, but the possibility remains to bar entry to American travelers.
Then during my nightly research, I discovered that France is digitizing non-resident vaccine certificates as of mid-August for those traveling to the country. This was our chance! We flying into Bordeaux next on August 27th.
I discovered this French government website, which instructed I email a copy of my passport, COVID vaccine card, departure flight info out of France, and some light paperwork with a signature to verify. Now the procedure routes through FranceConnect, a webpage requiring users to create an account. I imagine this is much more efficient than the email system, but I only had to wait three days before I had my pass.
Using individual accounts should fix the one rather large problem we ran into. I sent in both mine and Kirsten's information in separate emails, but received my info back twice instead of our separate Digital Passport QR codes. This might be a clerical error, but there was no outlet provided to address this issue. Kirsten then submitted the documents again from her email address, but again didn't receive anything back. Maybe there was no response because they already had her info in their system, but that left me as the only one with a Passport.
I took the Passport for a test drive in Lisbon, easily gaining access to restaurants. Our border crossing into France also went smoothly with the Passport and with Kirsten's paper card. Honestly? Even with Bordeaux's "pass sanitaire" initiative we haven't had much problems with getting into restaurants or museums with Kirsten's paper card, though it does get some looks like, "oh, this is soooo janky." (It is. We couldn't do any better, US?)
As for the EU Digital COVID Passport, I like it. I can keep it on my phone without looking out for my massive American card. which is a terrible size for everyday carry if you don't have a purse. It also feels like there's more legitimacy to my vaccination status and Kirsten's to anyone asking for a pass. This said, most countries and businesses do recognize American vaccination cards. You shouldn't worry too much if you can't get the EU Digital COVID Passport before your trip. This could change as the EU recently removed the US from its recommended safe country list, but isn't likely.
While most countries are still focusing on their own citizens, I have found another way to convert. The Italian government also has set up an online portal allowing non-residents a digital certificate under their "Green Pass." Site navigation is very tricky and I couldn't find an English translation of the page. The application is way more confusing than France's. If you're considering a European trip and really want to go digital, it may be worth your while to make a stop in France.