Florence has too many overpriced Negronis. Maybe it's the worldwide warming to the city's native cocktail of gin, sweet red vermouth, and Campari bitters, spurred by endorsements from the likes of Anthony Bourdain, Stanley Tucci, and Ernest Hemingway. Celebrity preference or not, the drink's delicious and I count myself a fan.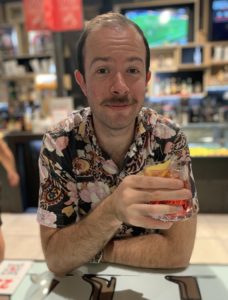 When I realized Kirsten and I would be in Florence during Negroni Week – a Campari-brand spearheaded celebration of the drink with an emphasis on charitable fundraising – I was ready to party in the birthplace. As it turns out, Italy does not observe Negroni Week. They save that party for Campari's birthday week in June. So there I was, the lone American celebrating Negronis in Florence.
I found most guides for Negronis in Florence are touristy, flashy, and easy. Anybody can find Harry's Bar. But did you know a Negroni at Harry's Bar costs 20€? I wouldn't pay that even if Hemingway was still there, which he wouldn't be because he went to the original Venice branch. Also, he's dead.
Some guides seem entirely more interested in which rooftop they were on than the cocktail. So if you want a view on a budget, go to the Piazzale Michelangelo and do your drinking after. When you do, consider hitting up:
Mercato Centrale
Blocks from the Basilica di San Lorenzo, Mercato Centrale is an upscale food court serving excellent street food at tasty budget prices. With a bar running through the entire middle of the wide atrium, it isn't difficult to order quickly, even when the place is busy.
This was our first stop, and a good first choice. The ingredients were bare-bones basic: Bombay gin, Martini Rosso vermouth, and Campari – heavier on the vermouth and Campari. The result was unremarkable, except for the orange slice and lemon peel garnish. It's a perfectly acceptable Negroni, but you can do better.
Price: 7€
Score: 4/10
Piazza del Mercato Centrale, Via dell'Ariento
10a-12a Sun-Sat
Caffè Notte
I love a locals bar, and I couldn't find anything more local than Caffè Notte. It was the furthest away from our Airbnb near the city center, but worth the walk. (Florence is infinitely more walkable than Rome.) Beautiful tiles and woodwork cover the inside of this easily-missed corner spot. The space is cozy and warm, with three rooms and minimal outdoor seating in nooks. As this is a traditional Italian caffè, you can also get snacks, espresso, and tea – but that's not why you or I are here.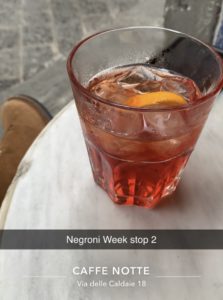 The woman pouring the drinks was very friendly both in demeanor and on the pours. She's rolling with Gordon's Gin (a personal favorite), Martini Rosso, and Campari and eyeballing the measurements. After she finishes the first round of pours, she's going back for seconds and getting a classic bar-style orange slice garnish. There's a joy in simplicity, especially with a delicious drink. This is a no-nonsense Negroni, in a comfortably no-nonsense setting, at a no-nonsense price. I love it. I'd come here all the time if I could.
Price: 5€
Score: 9/10
Via delle Caldaie, 18
9a-6p Sun-Sat
Cabaret Firenze
Please note this bar opened less than a week before we visited and is still finding its sea-legs. It's a larger, bare bones spot in a high traffic location. If you stay late enough, they do have live music and a lively crowd. The bartender was eager, excited, and affable.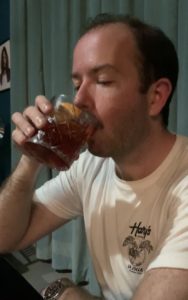 The bad? The Negroni tasted like straight Campari. The good? It was, based on my motor skills shortly afterward, apparently a fairly heavy gin pour. Also heavy: the lowball glass they served the drink in. I'm a sucker for weighty barware. Also in Cabaret's defense, The Aperol Spritz that Kirsten ordered was the best I'd ever had. I do wish humanity would stop serving them in wine glasses, though. A wine glass is no place for a cocktail.
I'm rooting for Cabaret. Not the best Negroni spot, though.
Price: 5€
Score: 3/10
Via dell'Ariento
9p-2a Sun-Sat
The Arts Inn
The bartender at The Arts was awesome. The home of 18(!) different Negroni variants, The Arts Inn can and will craft a cocktail catering solely to you. After I asked for a Negroni, they quizzed me on what I liked my gin and vermouth to taste like and then walked me through my options. They were knowledgeable without pretension, which is either called being helpful or caring. I forget which.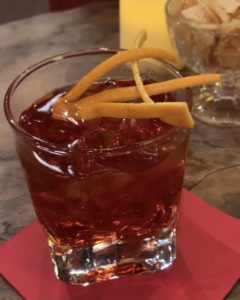 Based on the bartender's suggestions, I gather The Arts revolves around Tuscan ingredients. They still stock international standards for those in comfort zones. I chose Gin Dry Vallombrosa. Things I learned about Gin Dry Vallombrosa: It is Italy's oldest gin. Monks make it. A very powerful Japanese mixologist travels to Florence yearly to get 2 crates of it for personal use. It is also very good – ludicrously crisp juniper kicks you in the mouth. This would completely overpower most cocktails, but it was miraculously balanced out with the Campari and Del Professore Vermouth.
The garnish was an orange peel cut into either a Penrose Steps formation or a letter not yet invented. This Negroni is more about the taste than alcohol content. Speaking of taste, decor-wise, The Arts Inn looks like a perfect bordello to write a smart, sweaty novella. Salacious paintings are everywhere, including the most erotic painting of an orange. The walls are burgundy. The lighting is low. The music is the best of haunting indie. Go with a date.
Price: 10€
Score: 8/10
Via del Porcellana, 63 Rosso
Tue-Thur 6p-12a
Fri-Sun 6p-1a (Closed Mon)
Manifattura
Manifattura is, unsurprisingly, Italian for 'Manufacture' and has decked out the bar staff in matching white lab coats. Why lab coats instead of coveralls for manufacturing I'll never know, but as long as it's not a Triangle Shirtwaist, it'll do. Manifattura is Europe's first bar to serve only Italian-made products, which I can get behind for a proper Italian Negroni. I also wonder who was the second, and if they're in Germany.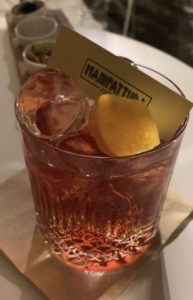 The inside is dark and lush, with recessed lighting, ivy-lined walls, and a killer soundtrack of Italian oldies. We took our drinks in the courtyard, where mostly couples gathered to share a drink under umbrella'd patio tables. They featured a seasonal menu, but still covered the classics. The Manifattura Negroni used Luxardo London Dry gin from Padua, Campari, and a Tuscan sweet vermouth. The result was surprisingly citrusy, which I don't typically like Negroni-wise, but it was delicious.
Price: 10€
Score: 7/10
Piazza di San Pancrazio
Tue-Sun 6p-2a (Closed Mon)
Mad – Souls & Spirits
Mad is the most fun stop on the list, tucked into the row of bars filling Borgo San Frediano. This is a wonderful dive – patronized by old friends, off-duty bartenders, and people wanting good, creative drinks made by a staff that knows booze. They change their menu seasonally to match a certain theme. (Past menus honor Urban Legends, A Fistful of Dollars, and Soul Warmers.) We caught them in a 90's mood with Im-Peach-ment Project, Truly Madly Deeply, and mine – the Negroni Di Provincia (De)Nuclearizzata.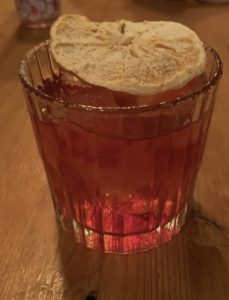 The most complex Negroni on the list, Mad's had Bitter Nardini in place of Campari, along with the gin, sweet vermouth, summer fruit and "nuclear technology." The summer fruit was a dried in-house orange. The name Mad might refer to the number of mad science projects all over the bar involving various infusions, agings, and drying taking place on premises. The "nuclear technology" will remain a mystery. Though there was a strange dust on the drink I still can't place…
Everyone in here is having fun, and the staff obviously loves their work, The B-52s were blaring, and the drinks were excellent. This one will give you a nice, warm nuclear glow inside.
Price: 9€
Score: 8/10
Borgo San Frediano, 36r
6p-2a Sun-Sat
Snack Bar Anna
This was the last stop for Negronis in Florence – a tiny cafe three minutes from our Airbnb. I'd noticed it every day and thought we could stop in on our last for a proper sendoff from a proper hole in the wall. The bartender made the drink by eyeball with around two measures Gordon's Gin, two measures Campari, and one of Cinzano Vermouth Rosso.
It was awful. The vermouth was somewhat akin to poison. I wouldn't give Cinzano to my worst enemy after this. The thought has occurred that maybe the vermouth spoiled on the shelf. (Rule of thumb: don't keep opened bottles of vermouth for more than 4 months.) No matter, it was easily the worst Negroni I've ever had.
Price: 5€
Score: 1/10
Do you really want the address??
Do you want to suffer the way I did?? Be free!
Final Thoughts
You can do multiple truly excellent Negronis in Florence for much less than Harry charges. Don't let me stop you from absorbing Harry's Hollywood history or keep you from an aerial view, if that's what you're here for. For those of us that want four great Negronis instead, find us at Caffè Notte.